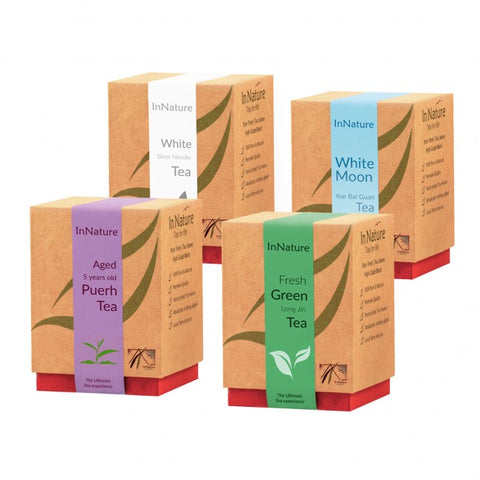 InNature
Tea Connoisseur Pack
£33.00
£43.00
you save

£10.00
THE WORLD'S FINEST TEAS
This pack is for those seeking the world's finest teas – and for lovers of the complex and rich flavours.
SUMMARY
1 White Moon Tea (50g of loose tea)
1 Five-Year-Old Puerh (50g of loose tea)
1 Fresh Green Tea (50g of loose tea)
1 White Tea (50g of loose tea)
1 Tea strainer
1 Silk bag
MORE INFO
This Exclusive Selection offers you a chance to experience a true exquisite tea experience.
The White Moon, a delightful rare blend which is exposed to the light of the moon to extract its mild and sweet taste.
The Snow Flower, a high-grade Jasmine blended with rose petals, that will delight your taste and senses with its flowery rich perfume.
White Teas, once a privilege of the Emperor and Royalty is now a rare blend to be experienced by those who expect nothing but the best.
"Top qulaity of teas with fair prices"
I love the aspect that this company supports the local teas farmers in China and it is not a mainstream company. Therefore, I highly recommend InNature Teas to everyone who wants to support a fair trade practice and simultaneously likes to enjoy high quality teas with fair prices.