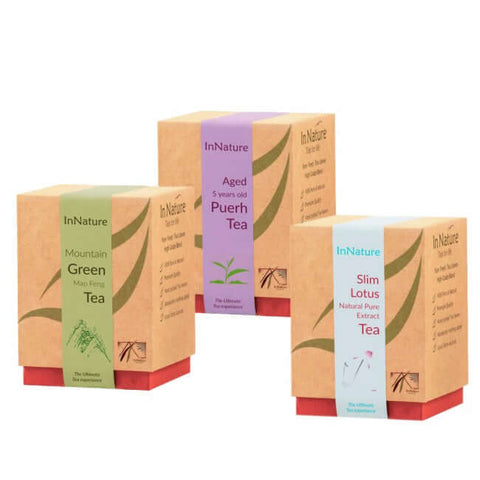 InNature Teas
In Nature Pack
Lotus Tea
Spring Green
Puerh tea
A natural selection of Teas which we have selected for the In Nature Bundle. These loose-leaf teas have been traditionally drank for thousands of years in China.
Lotus Tea has been used for years in South East Asia to help maintain a healthy, balanced lifestyle.
Lotus Tea, together with the fresh Mountain Green Tea and Puerh Tea, make a great gifting option or to treat yourself.
We also include an easy-to-use tea strainer to make your tea experience convenient and delicious.  
Recommended use:
Morning -  Mountain Green
During the day – Lotus
Night – Puerh
To experience the effectiveness, you need to drink five to six cups a day for at least three or four weeks. Avoid adding sugar, milk, or cream.