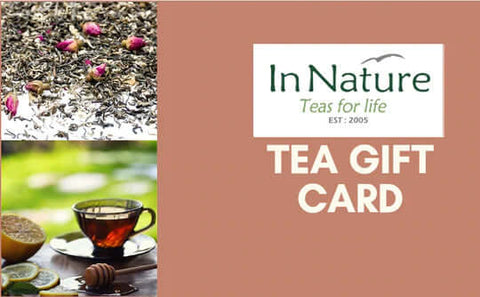 InNature Teas
IN NATURE TEA GIFT CARD
Teas are the most personal and genuine way to say you care for the ones you love. 
Next time you want to offer a very special Gift, try with In Nature Tea Gift Card. 
An exquisite taste and rich taste in one box.
Kind Regards 
Gaia 
I am hooked on these great quality teas!
These are truly wonderful teas. My favourites are the lotus tea (caffeine free!) and the Jasmin pearls. They are so good and I am so fussy about the quality and taste of the teas that I drink that I carry a little of each in very small glass containers in my bag so I always have them with me to add to boiling water! Even in eateries where the tea on offer is sometimes not great quality!
They also make lovely gifts and a gift card is a great way to introduce these teas to your family and friends.
I highly recommend them :)