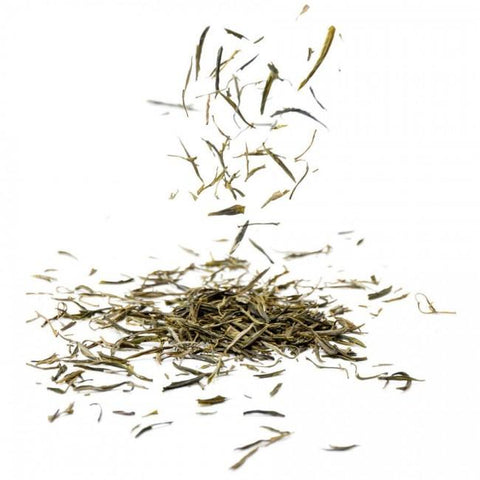 InNature
Mountain Green Tea
Product Description:
Packaging: Box contains 50g of loose tea.
Caffeine Level:
Liquor: A pale green hue.
Season: spring season.
Ingredients: young tea leaves and buds
Storage: To preserve Mountain Green Tea freshness, store it in an airtight container away from light, heat, odors, and moisture.
Shelf Life: 18-24 months.
Tasting notes: Grassy, Vegetal, Sweet, Nutty, Floral, Umami, Clean and Crisp.
Health Benefits: Mountain Green Tea offers potential health benefits, including antioxidants for combating oxidative stress, support for heart health, weight management, improved mental alertness, anti-inflammatory properties, and more. It can be a valuable addition to a healthy lifestyle. Consult with a healthcare professional for personalized advice.
Brewing Suggestion:
Water Temperature: 175-185°F (80-85°C). Avoid boiling water.
Teapot or Gaiwan: Glass or ceramic. 1-2 tsp per 8 oz (240 ml).
First Steep: 1-2 mins. Adjust for taste.
Subsequent Infusions: Up to 2-3 times.
Enjoy Plain: Savor the delicate flavor.
Remember that personal preference plays a significant role in brewing tea, so feel free to adjust the tea-to-water ratio, water temperature, and steeping time to match your taste. Enjoy the serene and aromatic experience of Jasmine Flower Snow Tea. make it short.
Origine/History: Mao Feng Tea boasts a rich history originating from China, where its exquisite leaves have been revered for centuries as a testament to the country's illustrious tea culture.
Nice colour and strong
A good one when you really want a good cup of green tea to refresh
Dear Farah , always a pleasure to serve you . Remember this you can make the Teas , stronger or milder ... here are a few tips ;
To make it stronger , add more leaves and let the infusion for a longer time . To make the tea mils , use less leaves and let the infusion for a few seconds ... not more than one minute. Enjoy in Good Health
Go for better
I think it's all about getting some a bit better. We can all nip to the supermarket and buy a teabags but what if you want something a bit better. The teas from InnTeas are a wee bit more. Look at the site, read what you are buying, where the teas are grown, the difference between one tea and the next and learn the health benefits. Know what you are drinking and appreciate it - make it more than just a simple cuppa.
Still waiting
I would love to write about my teapot and tea but unfortunately I have not received them yet. Despite the 2-3 day delivery promise when I placed my order (20 days ago), my order has not arrived. I understand there are delays but it is usual for there to be a statement on the website to advise customers. I believed this company were based in London but it seems my order is coming from China. Again this would be fine if I had been advised and was made aware of an potential delays. This is my first time using this website and I am afraid the customer service has been so poor I will not use again.