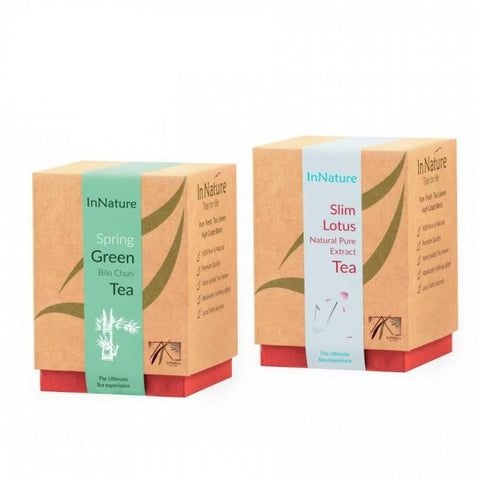 InNature
Detox Tea Pack
£15.75
£16.50
you save

£0.75
REJUVENATE YOUR BODY
Each pack set contains one box of our famous Slimming Lotus Tea, one box of our exquisite blend of Spring Green Tea, a tea strainer, and a silk bag.
SUMMARY
1 Lotus tea (50g of loose tea)
1 Spring Green tea (50g of loose tea)
1 Tea strainer
1 Silk bag
MORE INFO
Carefully selected teas have been used for millennia to rejuvenate both body and mind, helping you feel wholesome and renewed.
First enjoyed more than 2,000 years ago, green tea is one of the simplest and most pleasurable ways to nurture your health. Green tea is a great starting point from which to step into the tea culture. We have selected the mild Spring Green tea with our Lotus Tea, a caffeine-free drink containing health-giving alkaloids, flavonoids, and tannins.
We also include a silk bag and an easy-to-use tea strainer to make your tea experience convenient and delicious.