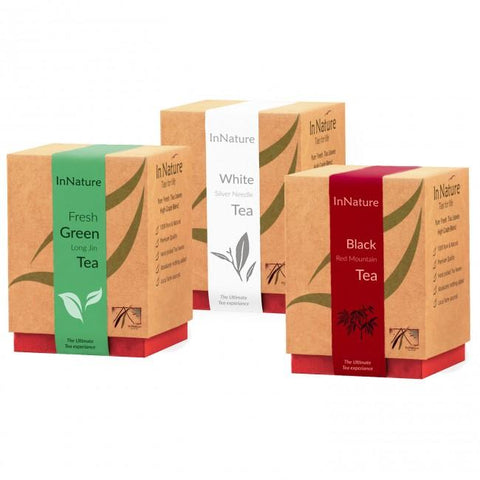 InNature
Energy Boost Tea Pack
CHOOSE YOUR ENERGY LEVEL
Choose your energy level with this collection of teas that take you from a gentle zing to an intense energy boost, depending on your need.
SUMMARY
1 Fresh Green tea (50g of loose tea)
1 White Tea (50g of loose tea)
1 Black Tea Tea (50g of loose tea)
1 Tea strainer
1 Silk bag
MORE INFO
Boost your energy level with this exclusive selection of teas.
All blends contain a reasonable level of natural caffeine that may assist your energy level. The combination of caffeine and L-theanine promotes brain function, productivity and focus. Unlike other caffeine drinks, these teas will not give you headaches and are not harmful to your digestive system; in fact, the opposite is true these teas have powerful health benefits (read more from each product page).
This collection unites three teas chosen for their stepped caffeine levels. The lowest, and giving the drinker a gentle zing of energy, is White Tea, which delights with its subtle and delicate flavor. Our Fresh Green tea can endow the drinker with some real verve, while Black Tea is renowned for its rich flavor and muscular, enduring energy boost.
Oh yes, and what's more… we will add a tea strainer and silk bag into the pack for you too!
We recommend:
Morning - Black Tea or Green Tea
Afternoon - White teas
To experience the effectiveness, you need to drink five to six cups a day for at least three or four weeks. Avoid adding sugar, milk or cream.
Great offer and convenient - Teas every month delivered
This is what I was looking for .... now I am guaranteed, that my supply of Teas will never run out. Perfect!